In today's society, technology has developed to become more than just hardware and software. As digital technology becomes more prominent and businesses embark on the path of digital transformation, digital strategy and business strategy will become synonymous. The phrase "digital strategy" is still applicable for directing efforts on digital activities for the time being. For many people, digital business has become a way to acquire a competitive advantage in the market. Individuals must, however, be open-minded to engaging in digital marketing.
Future of digital business strategy 
Gen Z and Expanding Reach 
Firms and entrepreneurs will need to rethink their digital marketing efforts as more Generation Z users reach adulthood. Companies don't have to make major changes, but Gen X and boomer-targeted strategies will become outmoded over time.
Gen Z is looking for a unique experience, which needs more targeted and successful digital marketing efforts. According to experienced digital marketers, Gen Z and millennials will become "the" target demographic for most businesses, needing a more responsive and tailored approach.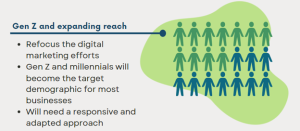 Globalized Shared Mission 
The importance of collective efforts in digital marketing has already been established. However, before employing new digital marketing tools or launching ad campaigns, more businesses will embrace a common and global approach. In short, a global perspective would enable companies of all sizes to broaden their reach and streamline different operations.
Entrepreneurs and small businesses can also gain the trust of their target audience by employing numerous digital channels to deliver marketing messages. It will also help companies overcome market distrust and reposition their value proposition.

SEO, Data Analytics, and Artificial Intelligence
The digital marketing world now includes SEO, data analytics, and artificial intelligence (AI). Businesses will automate more digital operations as AI advances, allowing them to make informed business decisions based on data analytics insights.
According to one report, more than 85 percent of digital ad execution will be automated in the not-too-distant future. The "technique" by which you obtain and render insights from a data analytics tool, on the other hand, will differ. With automated programmatic advertising in place, more organizations would focus on smart technology to identify audiences and arrange ad space through intensive data research.

Heightened Personalization 
KPI tracking and other digital marketing technologies will continue to play a key role in individualized targeting. Personalization has become an important part of running successful ad campaigns and communicating with target consumers. For businesses to convey value through narrative, each component of an advertisement is required.
Entrepreneurs and small firms will need to be more critical and reflect on earlier efforts in the new digital marketing era. For example, the ad's clear language demonstrates the brand's goal and confidence. Users will choose brands that are unafraid to express their essential message.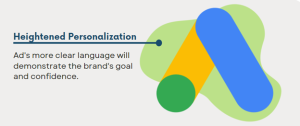 Use of Augmented Reality 
AR technologies are at the top of the list of digital solutions that help small businesses connect with their customers. Many businesses are already implementing augmented reality technologies to help them grow in the next years. The majority of digital marketers believe that augmented reality will play a big role in the future and will help eCommerce businesses chart a new path.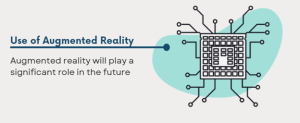 Voice Optimization 
With a greater reliance on automated digital assistant solutions, digital marketing initiatives will become more categorical and objective. Voice search, whether through Cortana, Alexa, Google Assistant, or Siri, continues to gain traction. Rather than typing, more consumers choose to speak directly to a digital assistant.
It's worth noting that keyword optimization for voice-based search is rather different. That's because when individuals want to adapt and begin utilizing their digital voice assistant, they employ more realistic and practical keywords and phrases. As digital assistants' voice recognition capabilities improve, digital marketers will focus on a more unique SEO technique to optimize business sites for voice search.
You may not realize it, but more than 70% of people who have one or more activated digital assistants prefer to utilize voice instructions over typing. The essential strategy of SEO is the same as that of speech recognition. The focus, however, will be on a new form of keyword and phrase that people use daily. As voice recognition technology progress, digital marketers will be able to target more accurate voice search results for ad campaigns and boost SEO efforts.
Google says that voice recognition in digital assistants is close to 95% accurate. Digital marketers will employ natural long-tail keywords rather than basic text-oriented keywords since voice recognition search results are more precise.

Omnichannel and Integrated Approach 
Small businesses and entrepreneurs will no longer have to limit themselves to a single Facebook page for their online presence. Businesses will be engaged on multiple digital channels and platforms to meet increasing market expectations and consumer wants.
Fortunately, multiple services exist to assist businesses in maintaining a uniform omnipresence. In the coming years, businesses will be able to integrate their main message and value offer for a specific target group across many platforms. With a single omnichannel digital marketing approach, more businesses will be able to understand their customers' changing behavior, location, and preferences.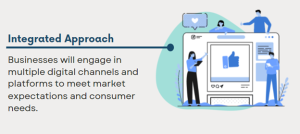 Expect More Awareness 
Whether you're using digital marketing to generate leads, convert customers, or raise brand awareness, you'll need a large target audience. Because there is now more market and consumer awareness, the future of digital marketing is bright. Businesses can also utilize a variety of smart tools to collect a plethora of data and conduct in-depth studies of their target market. It's a brand-new technique of approaching the audience. In reality, thorough market and customer research allow companies to capitalize on previously unexplored prospects.
Businesses do not need to be well-versed in all aspects of new technologies. The mechanics of a smart tool are important, but organizations that aim to expand their digital marketing strategy will get the best returns. It is for this reason that B2C and B2B players will need to innovate.

What was once a popular digital business strategy would become obsolete in a few years? When it comes to digital business strategy, there is always a paradigm change that encourages businesses and entrepreneurs to create more tailored content, follow new SEO guidelines, and use smart digital technology.
Small businesses can afford to ignore growing trends in digital marketing if they want to keep up with the times. The trick is to figure out how a particular trend will affect the digital business environment and the company's position.
In the future, the internet purchasing landscape will be more diverse, and users from ethnic minorities will seek a more inclusive approach. It will be no longer just about click-through rates when it comes to digital business strategy; it's also about how firms contextualize emerging trends and approach their target audience for diverse goals.
Ask for more from HERE
REFERENCES 
Bharadwaj, A., El Sawy, O. A., Pavlou, P. A., & Venkatraman, N. V. (2013). Digital business strategy: toward the next generation of insights.

MIS quarterly

, 471-482.

Kitsios, F., & Kamariotou, M. (2019, September). Digital business strategy and information systems planning: Determinants of success. In

International Conference on Innovation and Entrepreneurship

(pp. 514-XX). Academic Conferences International Limited.